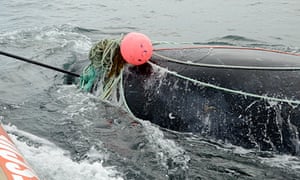 A Canadian lobster fisherman who saved dozens of endangered whales after they became tangled in fishing nets has been killed – moments after a last successful rescue.
Joe Howlett, from Campobello Island, New Brunswick, boarded a vessel off the province's eastern coast on Monday to help rescue a north Atlantic right whale that had become heavily tangled in rope.
The rescue was steeped in urgency: in the past month seven north Atlantic right whales have been found floating lifelessly in the Gulf of St Lawrence, off Canada. With a global population believed to be around 525, the string of deaths suggests that more than 1% of the population has died in recent weeks.
Howlett helped free the whale – only to be struck by the mammal moments later, said Mackie Green of the Campobello Whale Rescue Team. "They got the whale totally disentangled and then some kind of freak thing happened and the whale made a big flip," Green, who was not onboard the vessel, told the Canadian Press.
Howlett had previously saved some two dozen whales over the past 15 years, making use of his deep knowledge of knots and ropes to set the massive mammals free.
Just a few days before his death, Howlett had helped liberate another North Atlantic right whale in the region, cutting away a fishing line caught in its mouth.
"Joe definitely would not want us to stop because of this," said Green, who joined forces with Howlett to launch the whale rescue in 2002. "This is something he loved and there's no better feeling than getting a whale untangled, and I know how good he was feeling after cutting that whale clear."
On Tuesday, the federal fisheries department confirmed that Howlett had been killed while on one of its vessels, describing him as an "irreplaceable member of the whale rescue community".
In a statement, the department offered its deepest sympathies to the family and friends of the father of two. "Taking part in whale rescue operations requires immense bravery and a passion for the welfare of marine mammals," it noted. "There are serious risks involved with any disentanglement attempt. Each situation is unique, and entangled whales can be unpredictable."
Howlett's death comes amid the unprecedented loss of seven north Atlantic right whales in the past month. A team included marine biologists, federal scientists and pathologists among others, have been racing to figure out why the whales – which live along the eastern seaboard of Canada and the US and can reach up to 16 metres (50ft) in length – are dying in large numbers. Last week they carried out necropsies on three of the seven whales, hoping to find clues before the carcasses decompose.
While their findings are still preliminary and don't explain why the deaths have seemingly occurred within such a short time frame, they found signs of severe blunt trauma and bruising on two of the whales, suggesting collision with a vessel, while the third had been tangled in fishing gear for week.